Corporate sectretary's Bio
Corporate sectretary's Bio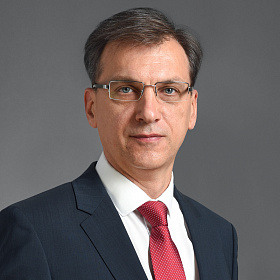 Valery Loskutov
Born on May 6, 1969 in Lipetsk.
Mr. Loskutov has held managing positions in a number of Russian companies, including NLMK Group, for over 20 years.
He is one of the founders and member of the Board of the National Association of Corporate Secretaries.
The winner of the 13th National Award "Director of the Year" in the category "Director for Corporate Governance / Corporate Secretary".
He won the Director of the Year XIII national award in the "Corporate Governance Director/Corporate Secretary" category. Mr. Loskutov is the winner in the "Best Corporate Governance Director" category, the Top-1000 Russian Managers Award, 2019. Leader of the Top-1000 Russian Managers ranking among the Corporate Governance Directors in the Metals & Mining sector, 2020.
Education: graduate of Lipetsk Polytechnic Institute, holds a degree in business administration from the Russian Presidential Academy of National Economy and Public Administration.
He joined NLMK in 1998, and was appointed NLMK's Corporate Secretary in 2005. In 2017, he was appointed secretary of the Human Resources, Remuneration and Social Policies Committee.