About the University
About the University
NLMK Corporate University is a center of advanced learning solutions and of spreading knowledge, accumulated by the Company, as well as best practices and global expertise
Our Mission
We use learning solutions and development environment to prepare current and future leaders who would implement challenging tasks in the fast-paced world. The Corporate University was founded in 2016 to centralize and implement the unified system of management education in NLMK Group. The target audience of the University includes over 6900 leaders of the Company, talent pool for leading positions and leaders of the ecosystem.
Our Ambition
Our ambition is to become the best provider of executive education for company employees and to evolve into an ecosystem.
Our Goals
Grow NLMK leaders and develop their leadership potential
Improve management system by training unified work standards
Systematize and transfer best practices – creation of self-/learning organization
Support administrative changes and strategic projects
Association Membership
NLMK Corporate University is a member of several international communities:
EFMD (European Foundation for Management Development) is an international association of business schools and corporate universities that engages in the accreditation of educational structures, training courses, and programs, ensuring that they meet international standards. EFMD's membership comprises 550 of the world's top business schools and over 50 leading global companies from more than 80 countries that have corporate universities.
NLMK Corporate University has been a member of the EFMD international community since 2019.
Details - https://efmdglobal.org
ECLF (Executive Corporate Learning Forum) is a professional association of the leaderships of corporate universities at leading international companies. The association's members include Basf, Unicredit, Raiffeisen Bank International, Siemens, Allianz, and many more.
NLMK Corporate University has been a member of ECLF since 2019.
Details - https://www.eclf.org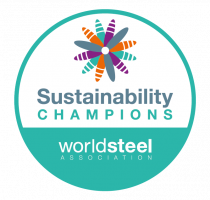 Steeluniversity is an educational project of the World Steel Association. It is a collection of free-to-use e-learning resources and interactive simulations covering key aspects of iron and steelmaking.
Details - https://steeluniversity.org
ETCO (Education and Training Committee) is a World Steel Association committee. The Corporate University regularly participates in ETCO meetings and arranges NLMK Group's participation in worldsteel events, such as steelManagement and steelTalks.