NLMK Group launches Corporate University website
NLMK Group launches Corporate University website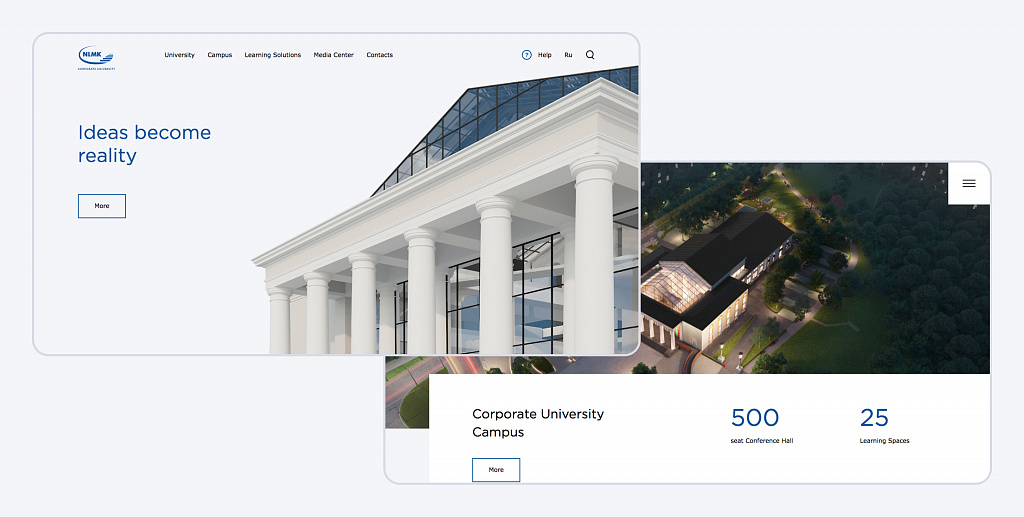 NLMK Group has launched the website of its Corporate University — university.nlmk.com — a training platform for the development of management competencies.
The website showcases the University's training solutions and level-specific programmes for developing management competencies. The Corporate University portfolio currently consists of around 50 training solutions and over 150 online courses on strategy and finance, operational efficiency and safety, leadership, project management, and innovation. The training solutions are developed in partnership with company management, leading experts, and international business schools.
The website also presents the facilities of the Corporate University campus. The innovative campus space was designed using advanced technologies: a multimedia lab for content creation, a space for project teams to work, design thinking rooms, an exhibition space, and a transformer conference room seating 500 people.
The NLMK Corporate University was founded in 2016. It employs the Leaders Teach Leaders approach: by engaging managers and experts in the training process, the Company prepares future leaders capable of achieving ambitious goals in a fast-changing world. Since 2019, the Corporate University has been a member of several international communities: the European Foundation for Management Development (EFMD), the Executive Corporate Learning Forum (ECLF), and the Education and Training Committee of Steeluniversity and Worldsteel (ETCO). In 2021, NLMK Corporate University was recognized as the best in Russia, receiving the Grand Prix in the Corporate University of the Year nomination at the Crystal Pyramid 2021 awards for achievements in HR management.
About NLMK Group
NLMK Group is the largest steelmaker in Russia and one of the most efficient in the world.
NLMK Group's steel products are used in various industries, from construction and machine building to the manufacturing of power-generation equipment and offshore wind turbines.
NLMK operates production facilities in Russia, Europe and the United States. The Company's steel production capacity exceeds 17 million tonnes per year.
NLMK has a highly competitive cash cost among global manufacturers and one of the highest profitability levels in the industry. The Company has investment grade credit ratings from S&P, Moody's, Fitch, and Expert RA.
NLMK's ordinary shares with a 20.7% free-float are traded on the Moscow Stock Exchange (ticker "NLMK") and its global depositary shares are traded on the London Stock Exchange (ticker "NLMK:LI"). The share capital of the Company is divided into 5,993,227,240 shares with a par value of RUB1. For more details on NLMK shareholder capital, please follow the link.
For more details on NLMK Group, please visit our website.
For NLMK Group's photos and corporate videos, please visit our media library.
Subscribe for updates